Permanent link to this article: http://lasteelshow.org/main/?p=15025
[adsense]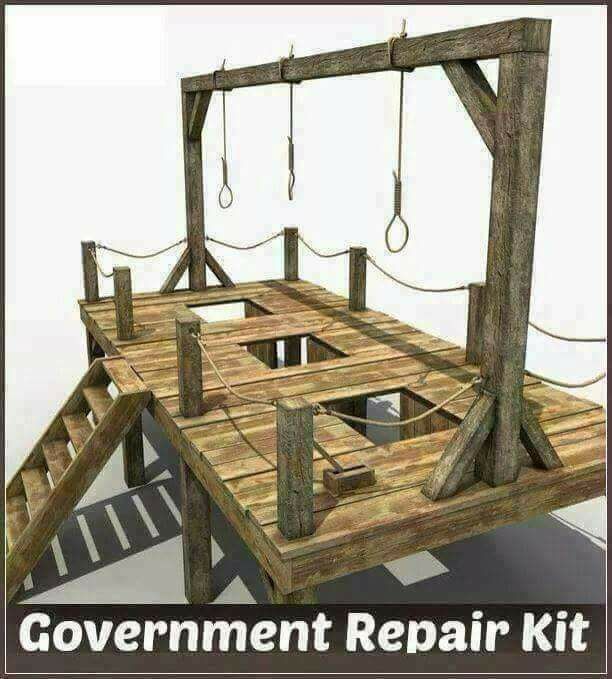 The following statements are from several interviews by recently furloughed Federal Employees who were willing to use their first names only. I have no personal connection to them however I do feel for them and can understand their nightmares of working under Donald Trump. Some of their statements are graphic. If you are offended, TOO BAD.
Federal Fred:
"I hate the son of a bitch, prick, idiot, treasonous, asshole Trump! That's all I have to say except I hope he gets impeached, imprisoned, and raped in jail!"
Certain Sally:
"I am so disgusted by Trump I could spit at him. He's a rapist, misogynist, idiot, and crime boss Russian mobster. I work in the government and try to do a good job and take my work very seriously because so many lives depend on what I do. Trump is a cruel and heartless dictator who doesn't care at all for anyone but himself. For him to stop paying federal workers at Christmas and for an unlimited time because he wants to continue to capture and kill young children and their desperate parents seeking asylum is inhumane and condemned by every country in the world and 90% of all Americans. Most Federal employees and patriotic Americans hate Trump and everything he stands for."
Patriotic Pete:
"I have served in the military for 25 years and am proud to have served my country but I am grateful that I retired from the military because if I still had my machine gun I'd be thinking of using it on that son of a bitch Trump. I've never seen anyone as stupid as he is with the exception of G.W Bush, he was the flying, asshole who caused 911, got the country into two unending wars and massive recession, and destroyed the lives and countries of millions of people to steal their resources and avoid his own impeachment. Before 911 no one remembers he had a national approval rating of 25% and falling and the House called for his Impeachment. Trump is held up by the crooked cronies and Republicans in Congress and the Senate and all the sycophants around him. I was sorry and alarmed to see "Maddog" Mattis resign it must have been a hell of a fight between the Mad dog and the Madman."
Passionate Pauline:
"I am so thankful to you for hearing what I have to say, maybe someone will do something about the shutdown and about Trump. I apologize if some of your readers are offended by what I have to say but Trump is the worst human being I have ever known. He's a rapist and racist animal without any feelings or compassion. He parades his dumb foreign wife around on his arm as she wears 8-inch stilettos to a flood zone and barely speaks English. I plead with Robert Mueller to come down on Trump with everything he has. He must indict, prosecute and punish Trump and his family by imprisonment. As a church-going Christian, I can find absolutely no love or kindness for Donald Trump and pray daily that God strikes him down and he goes to the Hell Fire he deserves for eternity."
Kindly Kate:
"I loved Donald Trump but now that he stopped my paycheck my love for him and my budget are a bit stretched. I voted for him cause I couldn't stand Hillary, and he said he would "Drain the Swamp " and "lock her up." It appears to me now that someone should lock up Trump for his own safety and the safety of the world. I regret voting for him, and I'm willing to tell the world I regret it. I love Trump because to hate him would make me very angry especially now when he shut down the government and 800,000 of us Federal workers aren't getting paid, and many of us have to continue working without pay because Trump wants to build a stupid wall. My poor husband can't even watch Trump on television without swearing at him. He's a federal employee too. I keep telling him to calm down especially at Christmas, but my stupid brother in law got him raging mad on Christmas day talking about Trump and my husband kicked him out of the house and my sister too. They are both Trump supporters God only knows why."
DISCLAIMER:
Any similarity to these Federal workers as coworkers, friends or family members are completely incidental and unrelated to these interviews.
L.A.Steel
Permanent link to this article: http://lasteelshow.org/main/?p=15016
[adsense]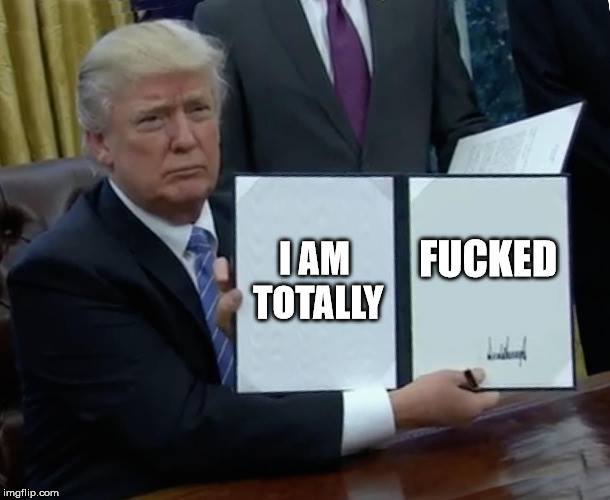 It was the night after Christmas and all through the White House, not a creature was stirring not even a mouse. All were gone to Iraq for a surprise visit to the troops there, to see how stupid the President could be.  He defied presidential security and flew unannounced until he arrived in Iraq without notice to the Prime Minister or the military and publicly identified a covert Navy Seal team stationed in Iraq that he took selfies with.  His silly wife in stiletto heels grinned in fashion embarrassment as she shook hands with uniformed women soldiers who wanted selfies with her, and Trump. The one thing the Trumps can both do adequately is smile a silly smile for a selfie.
It's disappointing to still have Trump in office, and Mueller's redacted investigation not due until February 2019. But maybe by then the Democratic investigation by the new Congress will make Trump snap and appear naked in front of Congress and the nation during his State of the Union speech in January. and announce his immediate resignation. Pence will be forced to step down too due to his "collusion and treason" with the Russians. and Nancy Pelosi as Speaker of the House will assume the presidency until the 2020 elections.
That sounds like an encouraging plan I hope happens. I also hope my readers had a pleasant holiday and have a happy new year.
L.A.Steel
Permanent link to this article: http://lasteelshow.org/main/?p=15013
[adsense]
Permanent link to this article: http://lasteelshow.org/main/?p=15009
Permanent link to this article: http://lasteelshow.org/main/?p=15004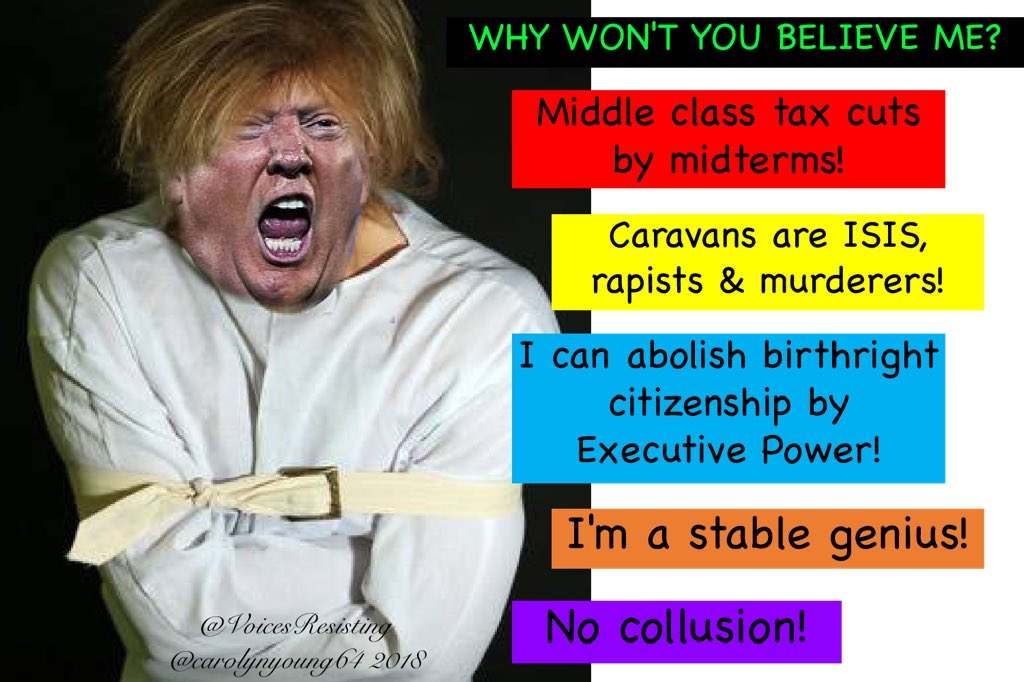 America is in the hands of a madman. The Madman of Mar-a-Lago has become the most hated, crazy bastard to ever hold the office of the U.S presidency and country in blackmail. This proves that the office of the Presidency is far too powerful for one person to hold, It has become a dictatorship of one insane individual, who without restraint is threatening to destroy the world in war and economic disaster.  This crazy bastard must be stopped by the rest of the government, refusing to acknowledge him as a sane individual and move to have him immediately arrested and removed from office. 300 psychologists and psychiatrists have recently stated publicly that Trump is unfit for office. He shows all the signs of Narcissistic insanity and is completely unable to perform his duties as President and must be removed immediately from office before he does more harm to the country and the world. His loyal blind followers are also insane to hold on to an obviously insane president promising to "Make America Great Again" by destroying all environmental safeguards, giving trillions of dollars in tax cuts to wealthiest people in the country, and to deny food stamps, Medical Insurance and Medicare, Social Security to millions of Americans and push the Middle and lower middle classes into poverty.
If this present government does not end the reign of terror of the Madman from Mar-a-Lago then the people must end it. There should be thousands and hundreds of thousands protesting and occupying the Mar-a-Lago resort in Florida where the Madman Trump and his family are spending the next two weeks in luxury during the holidays while he shuts down the Federal Government and furloughs hundreds of thousands of Federal Workers.  This is cruel, hapless and completely insane.
L.A.Steel
Permanent link to this article: http://lasteelshow.org/main/?p=14997
Permanent link to this article: http://lasteelshow.org/main/?p=14989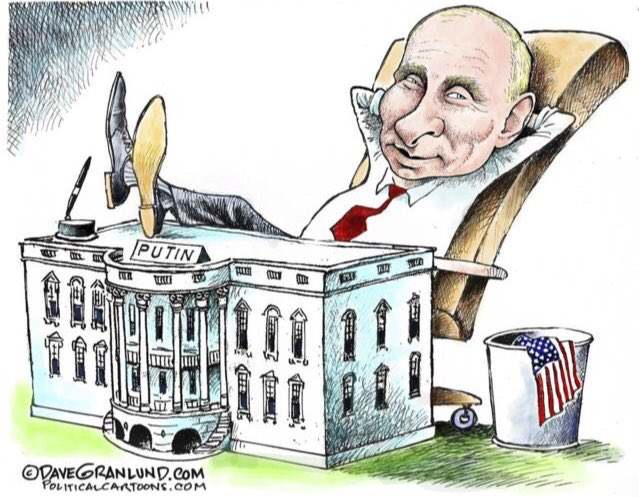 It appeared obvious to almost everyone after the Helsinki Summit with Putin that Putin was in charge of U.S policy and Trump was his stooge.  Trump stated he saw no reason to listen to the CIA findings on Russian interference in the 2016 elections because Putin emphatically denied Russia had any involvement, even after Mueller indicted 13 Russian agents who were in the U.S to rig the election for Trump and Republicans. Now Trump decides to pull out of Syria in the next 30 days. The only countries in the world who benefit from Trump's decision are Russia, Syria, and Iran. the same countries we have been battling there.  The Joint Chiefs of Staff were completely broadsided by Trump's irrational decision, as were the Senate and Congress. Nothing has been stated by Gen Mattis Secretary of Defense regarding this move by Trump. It appears that Trump did it on his own without conferring with any military advisors. The only reason for such an abrupt decision on Syria is that Putin must have called Trump and demanded he pull out of Syria or he would release damaging information on Trump to the world.
Trump owes his soul to Russia there is very little doubt left. He has kissed Putin's ass since before the election and had done so ever since regardless of what Putin does. Recently Russia has landed two nuclear-capable bombers into Venezuela without any statements by Trump or the State Dept except a foolish Tweet made by Mike Pompeo which both Russia and Venezuela ignored and called "undiplomatic".          https://www.cbsnews.com/news/russia-sends-bombers-to-venezuela-tu-160-nuclear-capable-planes-mike-pompeo/
This is similar to the Cuban Missile Crisis when President Kennedy threatened Russia and Cuba with war if they did not remove the missiles. Trump is so weak and pathetic he has done nothing in retaliation. Trump is an obvious traitor to this country and is owned by Russia as is the Republican Party. Patriotic Americans can no longer allow this traitor to remain in office or be unindicted and not prosecuted for his high crimes and TREASON. Another day, week or month of Trump remaining in office is more time for him to betray the American people and their allies. Congressional Impeachment or his Cabinet enacting the 25th Amendment are the only legal and constitutional options to rid the country of its greatest TRAITOR.
L.A.Steel
Permanent link to this article: http://lasteelshow.org/main/?p=14987
It has been stated and charged by the Attorney General of New York that the Trump Charity is a fraud and has been ordered to close down. If their charity is closed for fraud and all of Trump's businesses are being investigated for fraud, what does that say about Trump and his family? It says that they are all crooks and thieves and have sold out the country for money. The Saudis have stated that they bailed Trump out of two bankruptcies and Mueller's investigation has shown that the Russians through their oligarchs have invested billions into the Trump family businesses. Trump has sold out the United States and lied and cheated his way into the presidency, as well as the Republican Party cheated their way into a Senate majority by taking hundreds of millions of dollars from Russia and allowing Russia to heavily influence the U.S 2016 elections.
Trump continues to deny any wrongdoing or collusion with Russia or Saudi Arabia insisting publicly that Mueller's investigation is a "witch hunt" but so far Mueller has indicted 33 people including 13 Russian agents working in the U.S, to undermine the political process and influence the 2016 elections for Trump and Republicans. They have all fled back to Russia to avoid prosecution. Within his twenty months in office, Trump's administration has had 89 criminal indictments, 24 criminal convictions and 3 prison sentences with 2 more sentences scheduled within the next few months, those of Trump's former Dept of Homeland Security Director Flynn and his former campaign manager Manafort. Also, two of his cabinet members Pruit and Zenke have been indicted for fraud and both have resigned.
It appears that all the adult members of the Trump family Eric, Donald Jr., Ivanka, her husband Jared Kushner and the wives of Eric and Donald Jr. have been subpoenaed and soon will be indicted for Charity Fraud, Donald Jr. for lying to the FBI and money laundering, Jared Kushner for the same reasons. Everything Trump and his family have done appear to be illegal, which also includes tax evasion, money laundering and importing hundreds if not thousands of illegal aliens to work in their vineyards and hotels around the world without proper work permits or visas and paying them slave wages. Trump has been sued 4500 times for not paying contractors, employees and state taxes in Florida, New York, New Jersey.  He was not allowed to own a casino in Nevada because he was considered to have too many mob-related influences in his businesses. He was kept out of the NFL for the same reasons the owners believing he was involved with Mob-related activity with the Russian Mob.
It has been suggested by several network journalists and contributing legal consultants that Trump may resign to spare his family from prosecution, however, that is doubtful because Trump's only power to avoid prosecution of himself is to stay in the presidency as long as he can until he is impeached or loses the 2020 election. Vice President Mike Pence is also being investigated for his role as the leader of the Trump Presidential Transition Team and the Russian involvement and financing of the Trump/Pence presidential campaign. Trump and his entire administration are criminals and unfit for office. Mr. Mueller must indict every one of them or justice will not be served and the American people must demand that justice is served.
L.A.Steel
Permanent link to this article: http://lasteelshow.org/main/?p=14983
Permanent link to this article: http://lasteelshow.org/main/?p=14975