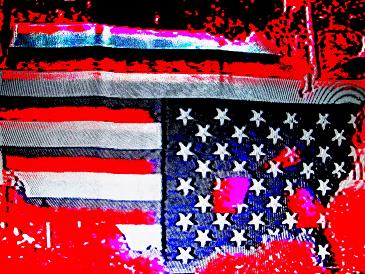 IMPEACH THE BASTARD!!!!
4/30/07
What in hell is the Congress waiting for? There has been enough evidence to impeach G.W Bush and his entire administration since he first took office in 2001. After the 2000 elections the entire world knew that Bush was not elected President. Voter fraud was so rampant and evident that even a blind deaf and dumb person could tell what was happening.
Everyone seems to forget that G.W's approval rating when he took office in 2001 was under 30 percent. Calls for impeachment were already being heard. Even with the million pound anchor of Joe Lieberman around his neck as his running mate, and over 3 million votes uncounted, Al Gore still won the popular vote by 500,000 votes. It doesn't take a genius to figure out that the vote was rigged.
911 was an inside job. Every intelligent person in every country in the world except the U.S knows; that G.W Bush and the criminals from PNAC orchestrated 911, and planned the attack on Iraq well before the 2000 election. Who the hell is kidding who? What does it take to light a fire under the asses of Americans, for them to see that they have been screwed, blued and tatooed by G.W Bush and the NeoCons?
For over 4 years since my first radio show aired I have been calling for the impeachment of the Son of a Bitch. I've called for his impeachment on my television program since 2001. I have had numerous 911 and Constitutional experts on my show to denounce Bush, and his contemptable presidency. I publicly condemned the Afghanistan and Iraq war on my television and radio programs before each war began. Why has it taken seven years for the American people and Congress to finally see what a miserable, crooked, bastard, G.W Bush is? BUSH MUST BE IMPEACHED!!!!!!!
G.W BUSH HAS KILLED OVER 700,000 IRAQIS. HE'S KILLED UNTOLLED NUMBERS OF AFGHANISTAN PEOPLE. HE'S KILLED OVER 3500 AMERICAN SOLDIERS AND MAMED 25,000. HE'S STOLEN TRILLIONS OF DOLLARS FROM THE AMERICAN TREASURY.HE'S DESTROYED EVERY ENVIRONMENTAL REGULATION ENACTED SINCE THEODORE ROOSEVELT. HE'S DESTROYED THE AMERICAN ECONOMY. HE HAS LIED TO THE AMERICAN PEOPLE WITH EVERY WORD HE HAS EVER SPOKEN TO THEM. HE STILL HASN'T DONE ANYTHING TO REPAIR THE DEVASTATION OF KATRINA. HE MOCKS THE CONSTITUTION AND THE GENEVA CONVENTIONS. HE STACKS THE SUPREME COURT WITH HIS LEGAL LACKIES. HIS TWO ATTY GENERALS HAVE BEEN INVOLVED IN CRIMINAL ACTIVITY. EVERY MEMBER OF HIS ADMINISTRATION IS EITHER CROOKED OR INCOMPETENT AND A POLITICAL DONOR TO THE BUSH PRESIDENCY. WHAT MORE PROOF DOES ANYONE NEED? WHAT IS EVERYONE WAITING FOR? IMPEACH THE BASTARD!!!!!!!!
L.A. STEEL