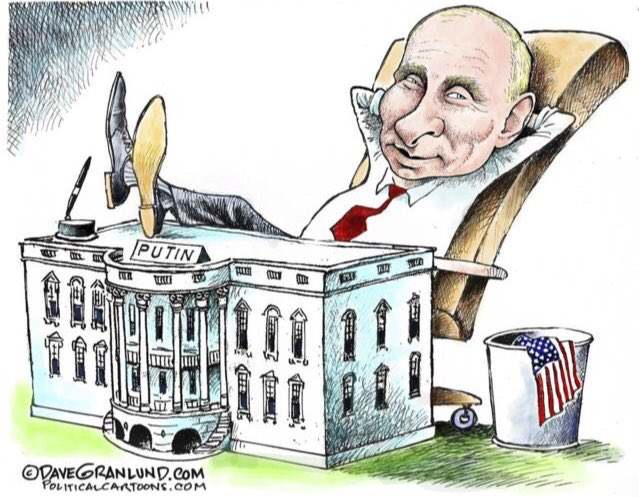 No president in U.S History except Donald Trump has ever openly betrayed his country with the aid of a foreign country, especially a country that is a confirmed enemy of the U.S.  The greatest threats to the United States are Donald Trump and his Republican Senate minions Mitch McConnell and the wretched Republican Majority. Multimillion-dollar campaign donations were made by Russian oligarchs connected to Putin, and the $100 million dollar donation made to the Republican National Committee, and the $100 million dollar donation made by Russian oligarchs to the NRA to be donated to individual Republicans as NRA (National Rifle Association) supporters. Also, $100 million donated to the Trump inauguration, currently being investigated by Southern Dist.of New York prosecutors. Two of the most powerful Republican senators Mitch McConnel received 2.5 million by Russian Oligarchs and Lindsey Graham received $800,000.
Evidence of the vast Russian/Trump conspiracy is woven throughout the Mueller Report like an ancient Midevil tapestry. The picture Mueller's prosecutors presented of conspiracy and corruption were vivid and remarkable. The Russian interference in the 2016 presidential election discovered by Mueller's team resulted in the indictments of 13 Russian agents and military intelligence officers in the U.S operating as the International Research Agency or IRA as reported in the Mueller Report. All indicted immediately returned to Russia to escape their arrest and resist extradition.
I cannot express my fear and loathing of Trump and his Republican minions any greater than I have nor can I understand Mueller's reasoning for determining there was no "Collusion" when there was definitely an obvious conspiracy, that won Trump the presidential election and retained Republican Control of the House and Senate. Thanks to the proven FACTUAL reporting, not FAKE reporting of the Media, by the  2018 Mid Term Election most Americans woke up to the lies and betrayal of Trump, the Republicans, and Russia.  If Democrats do not follow the call of Elizabeth Warren and other Democratic leaders for Trump's Impeachment and for public hearings of all the Mueller Report witnesses including Robert Mueller, Bill Barr, Rod Rosenstein, and Mueller's prosecutorial and investigating team, then Trump and his treasonous minions will continue their attempts to lie to and deceive Americans and destroy this country.
L.A.Steel