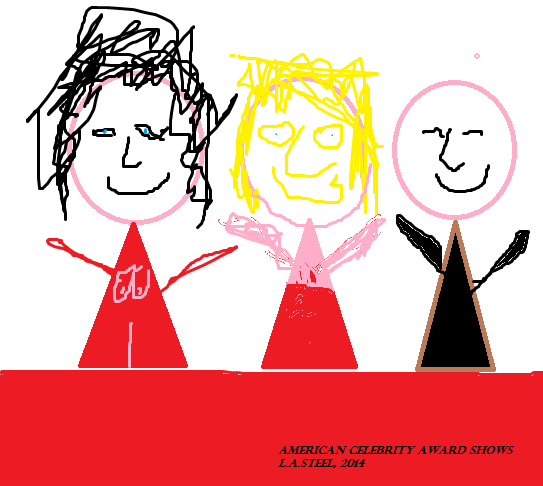 Americans were assaulted by the recent awards ceremonies of the music and television industries' best examples of narcissism and decadence. All of the many morning show sycophant hosts asked their television audience members this morning to answer them on Twitter as to what was their favorite moments of the VMA and Emmy award ceremonies.  My very favorite moment of both award ceremonies was, the moment I changed the channel.
Sometime between the first selfie of a reporter with starlets stumbling over their costumes and painted Joker like lipstick smiles I had had enough of the VMA parade of naked narcissists and changed the channel to a PBS concert of a long forgotten folk singer. Watching him sadly singing a forgotten song to dementia patients in the  audience said volumes about fleeting moments of fame and how fast the once famous are forgotten.
I couldn't watch the Emmy Awards either. I did catch a glimpse of a few middle aged men and women celebs holding their breath and stomachs in wearing tight gowns and tuxedos as the paparazzi took  their pictures. I noticed in the few minutes I watched the red carpet promenade of painfully plastered and primped celebs with major face lifts and liposuction, that few of the fashion conscious attendees had any sense of fashion.  What kind of moronic stylists convinced a 300 pound stumbling starlet to wear a tight fitting red gown without a full length girdle? If you are an actress with skinny legs, a fat rear end ,and use a body double in all of your television shows and movies, the worst thing you can wear to an event like the Emmy Awards is a short , tight dress. It doesn't take a fashion genius to figure that out.
The media glorification of the celebrated  stars and starlets proves the gullibility  and the apathy of the event watchers, watching their favorite rich, famous and frivolous celebrities parade before them on high definition,  large, flat screen televisions, flaunting their ridiculous smiles and fashions to the world.
L.A. Steel