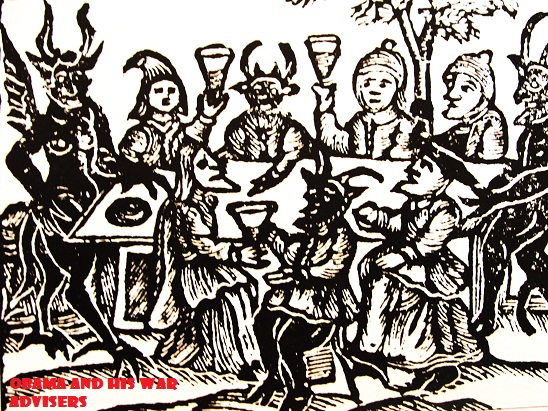 The most wicked people on earth are those who wage war. Those who attack other countries simply to kill other people and destroy other cultures. These people are sociopaths and killers, crazed in lust of blood and power. Barack Obama and his demon possessed followers are trying to convince the American people to go to war against Syria and their allies Russia and Iran. The insanity of this is so off the wall, even a complete moron could see through their lies. However there are many people who fall below the level of intelligence of a moron in America and other countries. People of any country supporting Obama's call for a military strike on Syria are either completely uninformed, or completely apathetic of what their government is doing.
I laugh at the pathetic media in the U.S. The BBC is even more pathetic. I can't take anything seriously said by someone named Katy Kate or comedians who think they are news reporters. The entire world television news media is a farce and runned by governments and corporate war mongers. One of the most intolerable news anchors in America is a former 1960 something Miss America, ABC anchor Diane Sawyer. She delivers her entire broadcast looking like she's suffering from severe abdominal cramps, and talks like a whining first grade teacher trying to instruct her classroom in a sickening, pedantic, tone of voice. It makes anyone but the most severely brain damaged immediately turn the channel.
For the last two days all news programs have put on a 30 second sound bite of John Kerry's speech supporting war with Syria. They will not play the entire speech because they are fully aware, that they would lose their entire viewing audience if they put him on the air for more than 30 seconds. Secretary of Defense John Kerry has absolutely no credibility with the American people, or with anyone in the world. His presense on television insenses the viewer and his blatant hypocrisy slimes their television screen. He became famous as a war resister during the Vietnam War, and sold out his country and fellow soldiers famously calling them "War Criminals". How can any voting American over 30 years of age not remember this cowardly, cringing, clown, who conceded the 2004 election to G.W Bush; after it was known and reported world wide of excessive GOP election fraud? Kerry actually won the election by over 3 million uncounted votes of Americans, who despised G.W Bush and wanted to end the Iraq and Afghanistan Wars. Now they despise John Kerry for selling out the country. I wrote about and published an article on this site when Kerry was nominated for Secretary of Defense by Obama, and stated that he was a traitor and would betray our country again. In his speech of 8/30/13 he betrayed the American people again by his support of war with Syria. How can anyone believe a war resister now turned war monger?
I must close this article now before I say anymore that might offend this administration further. They are trying and have succeeded in arresting,censoring and harassing people, who are speaking out against Obama and his horror of an administration. Not that our Congress is any better. But Obama doesn't listen to Congress or to the American people. He is a dictator and has taken this right to be one with the aid of Congress, who have given away their power to declare war by passing G.W. Bush's Patriot Act.
So my friends, if Obama strikes Syria in the next few days this site may be censored to the world. Kerry recently stated in a news conference that "It is virtually impossible to govern with an uncensored internet." The reason is no government can keep it's secrets secret anymore and are losing control. Zbignew Brezinski National Security Adviser under Jimmy Carter, and the Foreign Affairs Adviser for Obama, stated last year at a Trilateral Commission meeting that,"It is easier today to kill one million people than it is to control them." People around the world are awakening by new knowledge acquired via the internet, and are extremely angry at how they have been deceived for so long by their governments. Soon the world will either bow down to dictators like Obama or all dictators will fall, and the world will be free of tyranny. All people around the world must pray and fight for the end of religious and political tyranny and war.
L.A. Steel