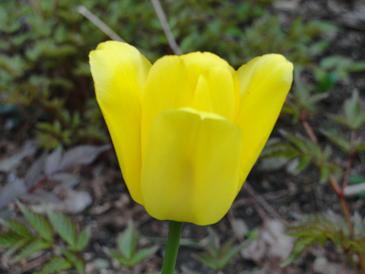 AN APRIL SUNDAY
4/29/07
The morning temperature was promising at 50 degrees. The early morning clouds were mostly gone by 10:00 AM. Television news had very little news of interest. I had marmalade on a fresh roll for breakfast for a change. I don't like to change my essential staples too often and I like my coffee black.
I seldom read a Sunday newspaper anymore. Newspapers just pile up and get ink on my hands. They have a caustic smell to them and I do not like black and white ink smudged pictures and print. I resent the telemarketers who want to sell me the Sunday paper for twenty five cents a week for 10 weeks and include delivery. It tells me no one is buying the Sunday paper anymore.
I haven't been to a church since my great uncle's funeral 20 years ago. I was asked to be a pallbearer. I've always enjoyed Sundays without church services. I often wondered if cleaning the yard or mowing the grass or doing some mild Spring cleaning would be considered working on the Sabbath. If yard work or house work or overtime on Sundays are considered anti Ten Commandments, then almost all Americans are in trouble on Judgement Day. It never feels like work when I'm doing what I enjoy doing.
I'm getting ready to build a patio in the next few weeks. I spent some time visualizing it today. I looked at the backyard and marked the outline of the patio. I spent some serious thinking time today looking at that space in the backyard. I visualized myself sitting on my new patio. I sat there a while in a lawn chair on the grass in the outlined patio space, until the sky suddenly got cloudy and the temperature dropped. It has been a nice April Sunday, but it now looks like it might rain. I'm glad I raked the yard.
L.A. STEEL