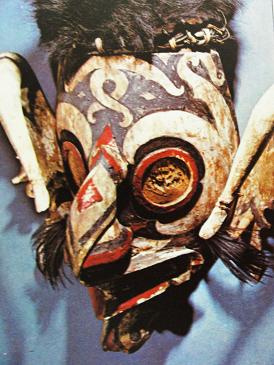 I WOULD VOTE FOR A GREEN, PURPLE POKA DOTTED , FIVE LEGGED, THREE ARMED, CANDIDATE FOR PRESIDENT, IF HE, OR SHE , WAS TRUELY QUALIFIED FOR THE OFFICE.
1/14/08
The recent racial issue, that has risen over the "Fairy Tale " quote made by Bill Clinton, and made an issue by the Obama campaign, has finally brought the race card into play in the 2008 presidential election process. I have been adamant in my dislike for Obama, not because of any racial factor , but simply because he is not qualified. Obama is an empty suit with a smile; who has captured the still innocent , and the racially guilt ridden, liberal voters; who want to believe that they have found the perfect candidate for "change" in Barack Obama. Obama is the liberal elitist choice for president; because he's black , is a charismatic speaker, and will be a perfect tool for the globalist elite. His top national affairs advisors are none other; than Zibignew Brezinski (Jimmy Carter's National Security Advisor , and the founder of The Trilateral Commission, an extreme globalist organization), and Brezinski's son. I believe that race, or gender, should have no influence what so ever, in a campaign for U.S presidency. If a candidate was sincere, genuine and truly qualified, and had a verifiable, and workable plan of action, to get this country out of it's many problems, without ties to major corporate, and globalist conspirators, if he or she were green, with purple poka dots, had three arms, and five legs, proof of birth as a naturalized U.S citizen, over the age of 35 , as mandated in the Constitution, I would cast my vote for that candidate.
It is shameful to believe; that an American voter could be so gullable to think, candidates like Rudy Guiliani , Mitt Romney , Fred Thompson, Mike Huckabee, or John McCain , are viable candidates for" change." John McCain is a completely artificial fabrication, without any consistency in his message; other than his apparent stupidity ie. "Bomb,Bomb, Bomb, Bomb, Bomb, Iran". Guiliani is a creep and a cross dresser. Romney is the candidate of his father's own presidential ambitions. Fred Thompson is a turtle like , status quo defender, of the Republican virtues of big military spending , war is good, love for corporate welfare, and hater of middle and lower class Americans. Hillary is Hillary , Bill, and Corporate Plutocracy disguised as the changed , status quo , Democratic leadership. Edwards true intentions, and sincerity are still unknown. He appears as a contradiction to the American Voter, and will not conceal his vanity. (Maybe he should get his hair cut at Cost Cutters). Edwards, who recently built a 28,000 square foot mansion, has a credibilty gap relating to middleclass men and women, living on the brink of homelessness . Edwards has even less credibility with the Homeless; who he claims he will champion if he is elected President. Having his wife on the campaign trail ( though she appears well, and willing to be with him) creates a sense of uncomfortable sympathy, cynicism , and doubt in potential voters, about her ablitiy to live for four more years as the possible First Lady, undergoing cancer treatment. The American voter, is reluctant to consider John Edwards for President. If they believe in his genuine sincerity and ability, and are deciding to support him; they can not overlook the obvious impact , Mrs. Edwards's illness, or possible death, would have on John Edwards and his ability to function as President, or the effect her illness or death would have on the country if she became the First Lady.
Obama is without a doubt the least qualifed candidate in the presidential primary race. The only thing he has going for him is his shade of black. A black friend of mine sent me an email the other day stating; that he couldn't understand why everyone considers Obama a black man; when he is half white. He dislikes Obama because he sees him as a sell out, and a hollow candidate. Recently I was sent an essay written by a distinguished black activist, and former Black Panther, Larry Pinkney; who is totally opposed to Barack Obama's candidacy. He states as I have that Obama is an unqualified candidate. Pinkney's article describes Barack Obama as another Colin Powell, Condi Rice, and Micheal Powell, tools of the white power elite. Pinkney states the difference between them is, Barack Obama is not a biologically pure Black American. I am firmly commited in my belief ; that the color of someone's skin has nothing to do with their love for the color of money, and hunger for power. The same emotions ,the same ambitions, and the same degree of avarice are what motiviates Barack Obama, or any presidential candidate; regardless of their race or gender. The great difference between Barack Obama , and Colin Powell or Condi Rice is they had far more experience and credentials, for their chosen positions. Michael Powell was chosen FCC Chairman most likely because of his father's early influence in the Bush Administration; rather than any other apparent qualifications. Unfortunately , personal influence will always play a major role in political appointments, but race is irrelevant, and should be, in the vetting of qualified candidates for the U.S Presidency, or for any position, in state , local, or federal U. S government positions.
If a knowledgable, and sincere, American voter, regardless of their race , age ,or gender, evaluates Barack Obama seriously, they will see him without the black mask; that his campaign stategists apparently wants to exploit. Once the American public is willing to truly recognize Barack Obama for who he is, and look at his credentials objectively, as a candidate running for the Presidency of the United States; they will discover, Barack Obama is the least qualified candidate of all the Democratic, and the Republican candidates in the race.
L.A. STEEL