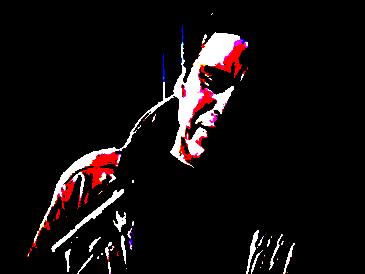 Have you ever had the feeling of losing yourself? It is a feeling of fading away, fading into the background of your life at home or at work, or driving your car or walking down a street. It is a feeling of complete anonymity. The feeling used to bother me,
but now I am familiar with it and understand it better than I did when I was a young man.
Then I wanted to be recognized on the street or in a bar or at my job. As I get older I realize the value of losing myself. My ego, my image, my personal possessions are all part of the me I created throughout my lifetime. They have all been lost or found or repaired and changed, or discarded like old relationships and old library books.
When I think of all I have learned I realize I have forgotten what I have not used. Many of the thoughts I've had and statements I've made in books and essays,paintings,drawings,music I've created and photographs I've taken; unless I put them on this website or in journals or draws or file cabinets or hang them on my walls, they are a part of me lost and never to be found or even remembered. It is the same way with some people I have known and later forget their names or faces or who they were at all.
I believe it is all part of the aging process, when the mind begins to accept that death is final, and we must lighten our minds and hearts of all we no longer want or need to remember. What and who we remember and who remembers us is all there really is.
L.A.Steel