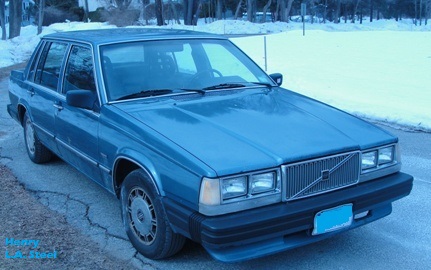 HENRY
I remember him sitting humbly
in the used car lot,
with an heir of integrity,
though he was 20 years old at the time.
I noted that characteristic to
the car dealer and he laughed and
said, "You're right it does have integrity
and 250,000 miles on it.
I'll guarantee the drive train
for another 50,000 miles."
This car will get 300,000 miles?
I asked him skeptically.
He replied, "It's one of the best
cars Volvo ever built."
I never owned a Volvo but I
knew of the reputation for
long wear and many miles.
After my test drive Henry was mine
and I drove him for
the next ten years.
The warranty was up when I
crossed the 300,000 mile mark,
and I was still driving him.
But like an old man Henry's body had aged,
his struts were weak
and his power steering was gone.
He needed a muffler
to quiet him down,
and he needed a catalytic converter
to prevent him from polluting the air.
His tires were old and need replacing,
though he still started for me
on the coldest winter mornings.
Henry took me to work and
back home again. He took me to
the grocery store and occasionally to
see a friend. Old Henry lost most of his
handsome looks,his youthful attractiveness
faded away. Henry was my trusted transportation
for many years. But like an old friend
whose life comes near to its end,
so it was time for Henry's demise and our long
and trusted friendship to end.
Henry understood that few cars reach 30 years of age,
and those like him that do are rare indeed
and are loved and cared for by their owners.
Keeping a car alive beyond its useful life
is not practical, regardless how much time or money we
must spend. Like old bodies that can no longer
stand, they eventually fall and break and never mend.
My memory of Henry
will always be with me,
when I think of excellence,
endurance and integrity.
When I ask myself what things I have owned
that have been the greatest inspirations to me,
I immediately think of Henry.
Henry always seemed to smile at me,
even when I said goodbye to him,
and transferred his title
to the car removal man.
L.A. Steel