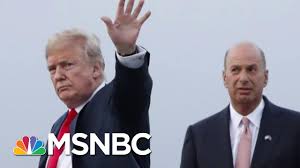 Ambassador Gordon Sondland gave his testimony today before the House Intelligence Committee. He was direct and honest about himself and his relationship with Donald Trump and the other" Two Amigos" Kurt Volker and Rick Perry, and especially his involvement with Rudy Guliani. Quid Pro Quo soon turned to be out right bribery and extortion under the guise of Trumpian Diplomacy orchestrated by Guiliani and his gang of corrupt Ukrainian cohorts. According to Sondland he and Volker were not aware of the Trump bribery scheme until after Trump's 7/25/19 phone call to Ukraine President Zelensky. Talk of the scheme had been made in a 7/10/19 meeting with John Bolton who abruptly ended the meeting after Sondland and Volker announced Trump's decision to hold back 400 million in assistance to Ukraine for a "favor" of investigating Joe Biden and his son for corruption. Bolton called the scheme a "Mulvaney's Drug Deal".The second channel or back channel established by Sondland to Ukrainian President Zelensky was not a backchannel but as he believed was the main channel of communications with Ukraine, and many of the National Security Council staff were left out of the conversations and meetings with Sondland, Mulvaney, Volker and Perry, and Pompeo and Trump. Guiliani's involvement was not known to Sondland until after the 7/25/19 call when Guiliani's name was mentioned in the phone conversation as well as Bill Barr.
Gordon Sondland was careful but appeared very honest regarding what he knew and what role he played in the entire matter. Trump lied to everyone and demanded Zelensky publicly announce an investigation into Joe Biden and his son's involvement with a major Ukrainian corrupt oil and gas company, where Hunter Biden received a plush job as a director on the board at a salary of $83,000 per month.
I was proud of the American State Dept. this week and Ambassador Sondland and Volker were stuck in a bad situation by Trump and Pompeo and Guiliani. Trump will be impeached on Sondland's devastating 7-hour testimony today. Several other witnesses will appear tomorrow to validate or not Sondland's testimony. I would be surprised if anything further could be added to the evidence that Trump abused his power by bribing and extorting the newly elected President and young democracy of Ukraine, who are currently being militarily attacked by Russia. Trump must be impeached and removed from office for sheer incompetence and criminal activity.
L.A.Steel