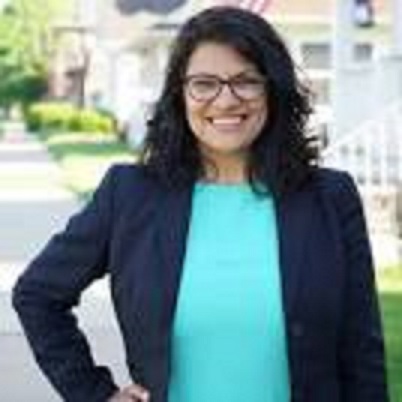 I am proud of U.S Congresswoman Rashida Tlaib for rejecting the left-handed offer from Israel to let her visit her 91-year-old Palestinian grandmother, with the exception that she retract her statements about an Israeli boycott and the genocide of Palestinians.  Rashida is one of the "Squad" of Freshman Congresswomen, who have criticized Israel's genocide of Palestinians and supported the BDS movement of Boycott, Divest and Sanctions against Israel for their inhumane treatment of the Palestinians.
Rashida is a Palestinian American born in the U.S. She is a fierce warrior for racial and economic justice and a threat along with her fellow Squad members against the overt racism and Islamophobic insanity of Trump and his many sycophants in the Senate and Congress and the blind racist supporters throughout the U.S. Her belief that Israel is an aggressive illegal occupation of Palestine puts her in the crosshairs of the Israeli government and is hypocritically cursed by Trump as an antisemite, even though the only real Semites are Palestinians.
May God Bless Rashida Tlaib and keep her safe.and her fellow Squad Members and especially Ilhan Omar who Israel totally rejected visiting Israel and Trump has made horrendous racial insults to. May both these women find strength in all who support them and encourage their vision of Racial and Economic Justice for all, and end the occupation of Palestine by Israel and end Trump's insane and racist administration.
L.A.Steel