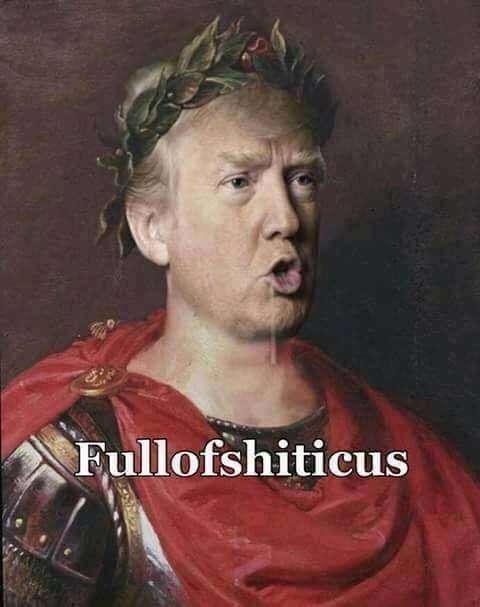 I have heard many State of the Union Addresses but never in my life have I ever heard one as poorly delivered, hypocritical and vomit worthy as last night's puking performance by Donald Trump. Every sing-song word, every stupid inflection of his tiny hands, every idiotic expression of insincerity made me physically ill to watch. No president with the one exception of the moronic liar, G.W.Bush has made a complete farce of the American Presidency in a SOTUA. Trump's entire presidency is a farce. Everything he says is a lie, everything he does is against the people of the U.S and in favor of Russia and his billionaire cronies. Everything he stands for is a hypocritical, farcical philosophy of billionaire entitlement, indifference and complete lack of empathy for the American people he was "elected" to serve.
I laughed at his praising of the newly elected Democrat congressional women all wearing white, some elected by vowing to impeach him. It's amazing to see their vanity appeased by the most misogynistic president ever elected as they stand excitedly in applause for themselves. This was obvious Proof that their vanity exceeds their ability to deliver competent congressional leadership, including "Wonder Woman" Nancy Pelosi who stood up to praise his hollow compliment.
Nothing he stated in his sickening speech made sense except to the most mentally and ethically deficient Republican senators and congressmen, and Trump's Elf on a Shelf Vice President Mike " The Moron' Pence. The grimaced look of his Joint Chiefs of Staff and the heads of all the Intelligence Agencies were enough for any astute observer to see their seething disgust and hatred towards Trump. I can only pray for the day Mueller releases his investigation. It is no coincidence that Roger Stone's recent arrest and the announcement of the investigation of Trump's Inauguration. $40 million dollars were unaccounted for and $10 million given to Ivanka Trump for her" leadership", and millions in donations by Russian Billionaires.
L.A. Steel