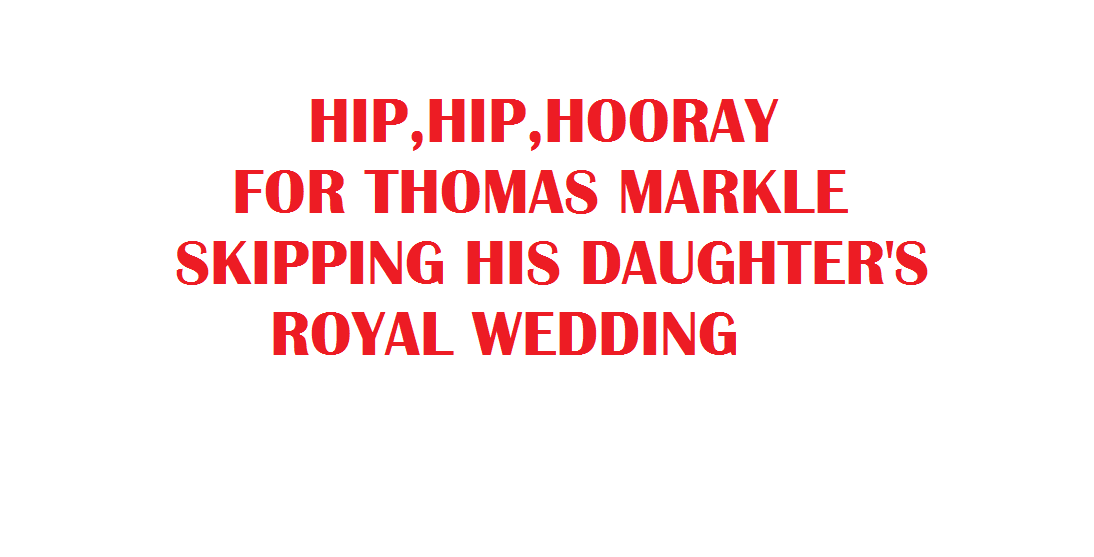 I'm sorry for Thomas Markle's ill health, which was probably caused by all the pressure of his daughter marrying into British Royalty, but I am also glad for him, to be able to skip out on the world attention he would face, as he walked his daughter down the isle of the most hyped up, international, globalist , British specticle ever witnessed. Imagine being scrutinized by one billion world wide watchers of the wedding. Thomas Markle or any poor man his age put in his position would have a heart attack. The public and private pressure of his half black daughter marrying a prince of England, and being the most well known women in the world this weekend, has to be overwhelming.
At a cost to the British tax payer of over 44 million English pounds, this is an obscenity of Royal arrogance and indifference to the billions of starving , poor and politically abused people around the world. Meghan Markle's wedding dress , paid for by the English Taxpayer is stated to cost over 330,000 British pounds. The lunacy of the British Royalty and their brain washed subjects, proves to the world insanity reigns as a major legacy in the British Royal lineage.
Cheer up Tom, not only can you avoid the Royal Wedding Rubbish, but you can rest easy in your recovery, knowing that you were royally substituted for by Prince Charley, the first in line to the English Throne, and all you have to do is send Meghan and Harry a wedding card.
My best to Thomas Markle.
L.A.Steel