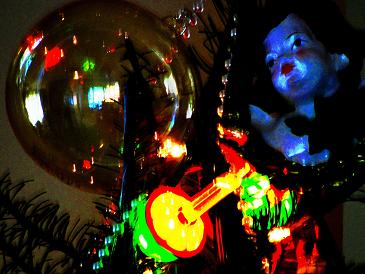 JUST THE RIGHT GIFT
12/23/06
I was doing some last minute shopping yesterday when it occurred to me, that I didn't know anyone personally who didn't have anything. Maybe I did, but I wasn't aware of it. Many years ago I had been in that position. I had lost everything I had owned in a fire and then a subsequent divorce a year later. It takes forever it seems to recover from that type of setback.
The sudden loss of an entire lifetime of material possessions, and the mental and physical stress it places on one often leads many who find themselves in that position into an unrecoverable depression. I guess I'm too bull headed to allow myself to be depressed for very long. I feel that if I sit too long and think about doing something I think myself out of doing it.
Christmas is the time of year that makes me think of others, but usually I'm thinking only of those closest to me, and others who have been close to me at one time or another and I've lost contact with them. I use to be one of those people who would call everyone I knew and liked; that still had a working phone number to wish them a Merry Christmas and say hello. I stopped that practice. It finally dawned on me one year, that these people didn't think enough of me to call me, or contact me at all during the year. I realized in a rather bitter way; that they didn't care if I contacted them or not. I was never a beggar for friendship, but once I made a friend I would stay loyal to them, unless they gave me reason not to.
The telephone is a remarkable invention that was designed to work in two ways. People can make calls and they can receive calls. It seems that many people forget the first or second use of the telephone. I'm not bitter I'm just contemplating Christmas and friendships and family. We have to be willing to accept the fact that some people don't like us , and that we really don't like them. We hate the thought of having to talk to them at Christmas or on any holiday. They just piss us off. That could be a sibling, parent, in-law or outlaw it could be anyone. I've decided not to bother anymore. I only do Christmas with people I really like to be around. I only take time to talk to people I really like , and those are usually always the people who like me. Why kick yourself or your spouse or significant other or your kids by visiting people you can't stand on the holidays? It's a form of masochism.
Getting back to people who have nothing and might have lost everything. If I could afford it I'd buy all of them something. I don't think I would give money. Money just gets spent, and there is never enough to compensate someone for their loss. If I were to buy something for everyone who has nothing I would buy them something to give them hope, a Hope machine. A machine that would give everyone who needs hope all the hope they could ever use. It would be their own eternal fountain of Hope. I can attest that Hope has worked wonders for me. It gave me the vision to climb out of depressions with idea's that generated new businesses, new friendships new love. Hope made it possible to create a totally new reality. This would be my gift to all who need it . If you need hope this time of year here it is. Hope can always be with you, as long as you are alive. It has always been a great friend to me, and calls me every day, just to see how I'm doing.
L.A. Steel