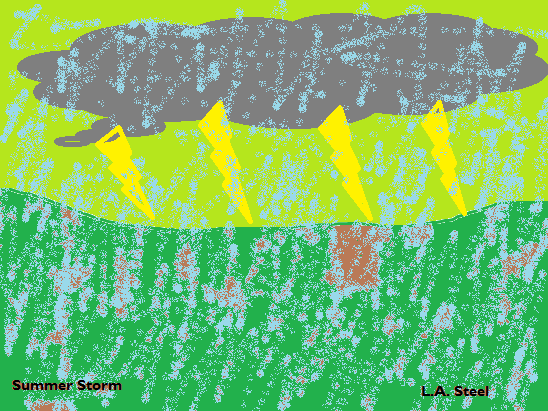 The skies turned green.
The humidity increased.
My arms became sticky
against the leather chair.
The wet cotton of my shirt
clung against my skin.
The fan blew moist air.
A cool shower relieved me for a moment,
until I wiped off and began to sweat again.
I remembered the feeling of cold winter winds,
and cool autumn breezes, and summer
waves of a fresh water lake rushing over my face
and shoulders.
As I looked out the window I saw dark
clouds merge closer together
and a  funnel forming.
I felt the wind rush through my open window.
I saw the leaves on the trees turning over.
A warning of a storm approaching.
I saw the first droplets of rain and closed
the window and front door.
Soon the downpour began.
I heard  the sound of thunder,
then saw lightening flash in the nearby sky.
It was early afternoon.
The downpour lasted several minutes until the thunder clouds rolled by.
Then the rain stopped, the skies cleared, and a sudden wind blew through
the trees.  I opened my door and windows and felt the cool breeze
against my face and arms, and breathed in deeply
the dry,cool, air.
L.A. Steel