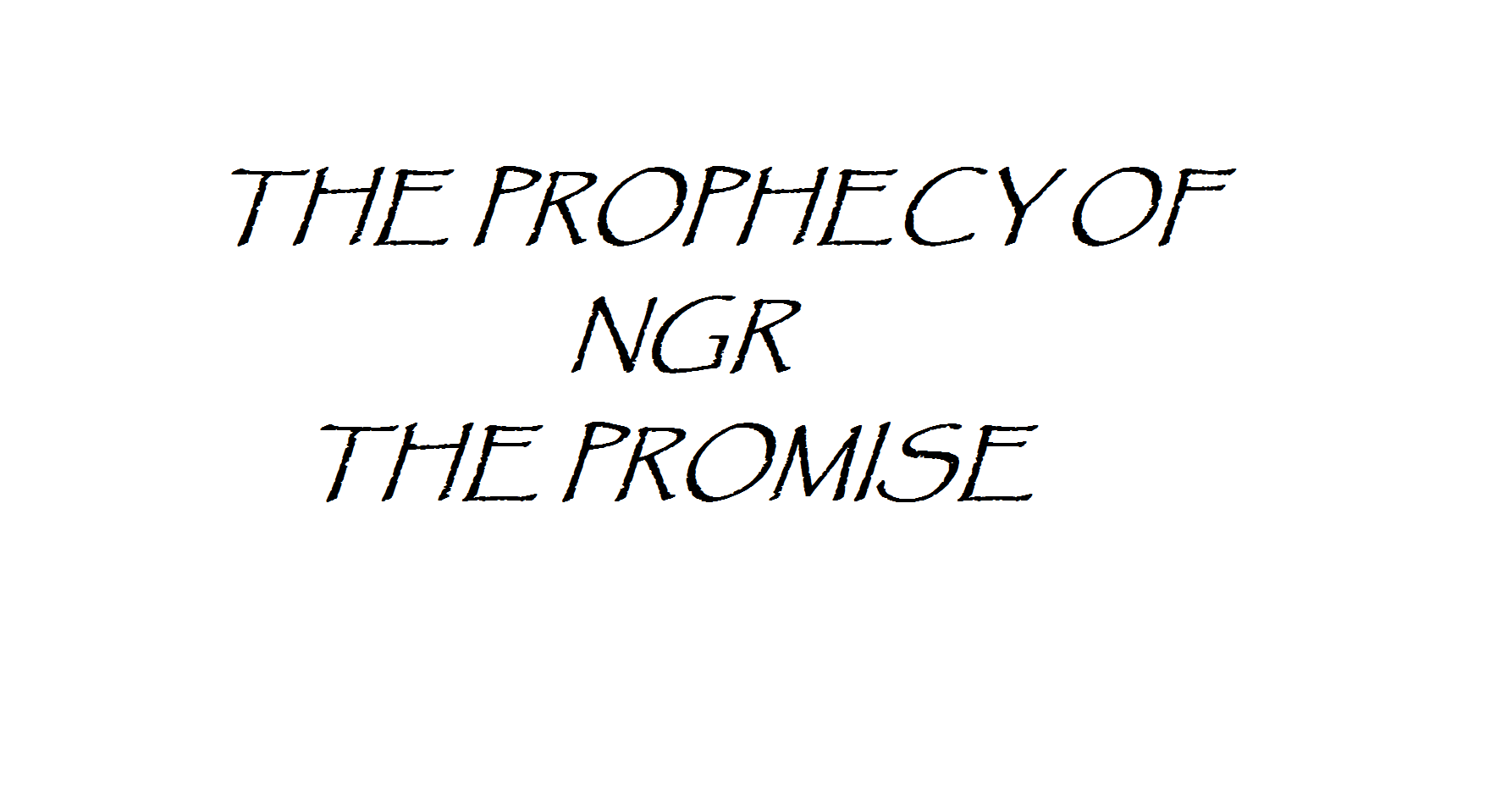 THE FIRST PROPHECY OF NGR / THE PROMISE
First published 4/1/07 on lasteelshow.org
Must the skies fall before one knows darkness? It is death to all who do not understand me. I am known throughout the world. I am the dead and rising king. My people have laid my spirit in a tomb and guarded it with their lives. See my tomb before you in the shadow of Sameron. See it in the night without stars or moon. See the darkness before the skies fall, and seek the shelter of my tomb. I am the truth and the light. I am the past and future. I speak to all who will listen freely. I speak not to those who cower on their knees and close their eyes in fear of me. I speak not to those who beg me for prosperity and freedom from their oppressors; while worshiping gold, carved stone, bronze and wooden statues of idols.
Lost are you who question me. Lost are you who do not hear me. Do not search the stars for me. I do not condemn the crowns I have given them, for they do not die nor do they live, they serve the universe I have created. The rich firmament of Earth from which you where created, has been contaminated by your waste. It is a filthy place. I see nothing clean. My skies are filled with chemicals, My trees die from axes and saw blades. My children are dying from neglect, murder, and despair. It is time now to listen to me. As above so below. I am the least of all, and the greatest of all. I am the cursed and the blessed.
None shall pass through this world without my knowledge. None shall die without my permission. I now curse all highborn and lift up the lowly. My spirit shall rule the earth once more; when the lowly rise to overtake the highborn. All who worship their wealth will perish by the rage of the starving and destitute. The gluttonous will vomit their treasures to devour their own souls.
There shall be a rumbling of earth like the world has never known before. There shall be rivers of lava streaming over the land. Rains shall be of fire and fires will not cease. Man will cry for forgiveness, but only the blessed shall I hear. I am not Christian, I am not Jewish, I am not Muslim, I am not Hindu, I am not Buddhist, I am not a myth or pagan idol, I am not a wretched dragon or beast with horns, I am not a man or woman or leader of nations. I am none of these. I have no church or home on earth. I dwell within the souls of all who know and welcome me. My home is beyond the stars and heavens. My spirit will not be denigrated further by the willful ignorance and wickedness of mankind. Those who deny this truth and laugh with scorn will know emptiness without end.
I am the light and the way. Those who do not see my light will perish in darkness. I am the only light. I am life. I am the one and only creator. No man or beast or spirit has been conceived without my thought. No greatness, love or kindness can be granted without my acknowledgment. My word is my promise. I have made a covenant with man and I now make a new covenant. ALL WHO LISTEN TO MY WORDS AND ASK FOR ME TO DWELL IN THEM SHALL HAVE MY SPIRIT AND BLESSING FOREVER. FORGIVENESS IS MINE, REVENGE IS MINE. I AM GOD AND CREATOR. REBUKE ALL EVIL AND WICKEDNESS. END ALL WAR AND VIOLENCE. LOVE YOUR CHILDREN. LOVE YOUR FELLOW CREATIONS. LOVE AND HONOR ALL WHO ARE RIGHTEOUS, CONDEMN ALL SPAWN OF DARKNESS. WITH MY SPIRIT YOU WILL KNOW THEM. WITH MY SPIRIT WITHIN YOU, THEY CAN NOT HARM YOU. RISE UP AND PREPARE FOR MY COMING. HAVE COURAGE. YOU WILL FEAR NO ONE IF YOU HARBOR MY SPIRIT WITHIN YOU. I PROMISE ALL WHO BELIEVE IN ME, DIVINE STRENGTH, DIVINE HONOR, AND DIVINE IMMORTALITY.
NGR
NGR is another name for God. I discovered recently that NGR is the African sacred name of God. The term NGR was later phrased by white Europeans as Negro or (black) then slanged by slave traders and slave owners as Nigger. To verify this statement please go to CounterRacism.com. Once I discovered that the African word for God was NGR I wondered what would happen if the entire world knew; that God's name had been desecrated by the white race into the most insulting name known to members of the African Race. While white people celebrate Sunday in the name of their white God, they continue to deny and denigrate the true God by condemning his real name of NGR.
L.A. Steel