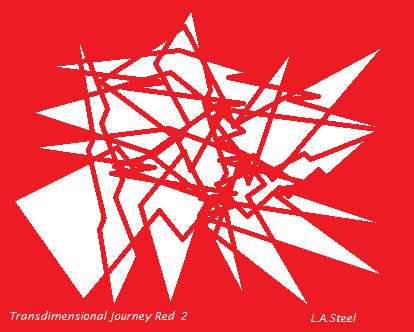 Fourth Dimensional reality is a different frequency from where Third Dimensional reality ends.
Understanding polarized existence can allow a seeker to understand how 4th Dimensional reality exists. It is created by our spiritual energy and manifested by our mental capacity. Our own imaginations create 4th Dimensional reality where all is possible. People who are crossing over can live in both realities. The 4th Dimension is where most spirits are. They are either trapped there by their fear, or they create a spiritual wonderland,by their imaginations. They may create a 3D mirrored image because they cannot yet understand that they are spirits. Those who are attracted to the physical world will reincarnate to the physical plane or they will live a mirrored 3D existence on the 4th Dimension.
The problem with 3D mirroring on the 4th Dimension is that not only do the beauty and wonders of the physical plane manifest but also the ugly and frightening images manifest as well. The spirit who arrives in the 4th Dimension, either as an inter-dimensional traveler or someone who has physically died and is crossing over, transports their physical memories into their spiritual life. It takes a great deal of adjustment to acclimate to the spiritual reality, unless one is prepared to pass over, and projects only positive and pleasurable images knowing they will immediately manifest, and block all negative images from appearing. When someone is prepared to accept death, or are prepared through meditation to transcend dimensions,then their passage will be easy, pleasant and without fear; because what they expect to see is what will be waiting for them.
The 4th Dimension is the Astral Plane and can be crossed into and out of continually by dream, meditation, or death and reincarnation. All stages of spiritual ascension begin in the spiritual and graduate from there by experiencing all levels of spiritual awareness. The Physical Plain forces us to forget who we are and creates an illusion of prison that few can escape from except by death or trans-dimensional travel. Many imprisoned, embodied spirits are awakening and understanding that they are not earthbound or trapped, they are sensing their power being enhanced by a new energy overwhelming the earth. That energy is the polar and dimensional shift happening. We are merging into a 4th dimensional existence regardless if we are aware of it or not. Many are prepared for their transition all others are wondering what is happening around them, why time is speeding up, why revolutions are happening around the world, why everything is becoming unrecognizable, why systems are falling apart, governments, religions and belief systems. The reason is that we are evolving into higher vibratory beings. We are ascending collectively and individually into the 4th Dimension and soon everything we ever knew on the physical plane will become obsolete, as we must learn to cope with our new powers of heightened intellect, emotions and senses. All deception is being unmasked. All awakened spirits are demanding truth, justice and spiritual consciousness.
From the crowded plain of entry to the remote regions of the 4th Dimension we follow a silver pathway
to the 5th Dimension, however to ascend there one must know of it, ready to seek it out and aware of the hierarchy that live their. As reincarnated spirits we lurk through the 4th Dimension trying to remember who and what we were and where we came from as we follow the silver path before us we come to the remoter regions of the 4th Dimension, until we arrive at the barren wastelands. There the silver pathway continues but the plain becomes bleak and awash with wind and the illusion of harshness, until our spirit weakens and tires and can barely go further on. At that point of near return to the more densely populated areas the traveler is met with a wall of flame so high and wide it is impossible to go around or over, and must either be gone through or the traveler must turn around and retreat to the lower levels of the 4th Dimension. A guide will appear at this time if the traveler requests one or if he is intuitive enough to know one will appear. They will advise the traveler and encourage his passage through the great wall of flames, however only faith and courage and willingness to purge the spirit will allow the spirit to pass through the wall of flames unscathed, and cleansed of all darkness and memory of darkness, all sin and doubt and worry will dissipate in the great inferno cleansing the spirit or all darkness and leaving it knowing only light.
Many spirits return to the lower levels and reincarnate to the physical plane for fear of the flames being the forbidden entry to the mythological Hell. But the wall is an illusion placed before the spirit
to walk through if they know it is an illusion by their faith and knowledge, or they are turned away
by their fear and and lack of faith and knowledge of themselves and the wonders and miracles of their Creator. Those who walk through the great fire see the silver pathway turn to molten silver and flow in a stream, yet they follow it knowing it is leading them onward to the higher dimension of spiritual awareness and enlightenment. As they walk through the Sun they see their silver pathway before them gradually turn to gold then they follow it further until the flames diminish and they enter a pure white mist, as they become blind by the white and see only white without depth or perspective and continue to move forward in faith and knowledge and wisdom, knowing they have passed through the most frightening illusion and will soon see a new reality in the 5th Dimension, and are prepared for more and greater illusions or to reach their destiny. To be continued into the 5th Dimension.