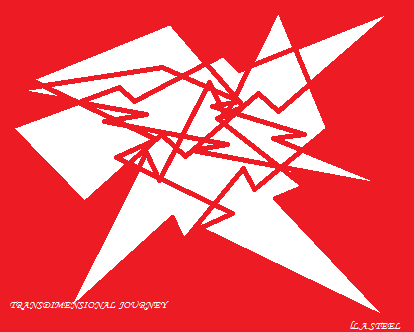 Welcome onto the great path, shared by all spirits who have trodden this trans-dimensional journey, I am your first guide through the shadow realm of the Fourth Dimension. There are so many questions about death and multidimensional travel, but these questions can be best answered by disregarding the concept of Time. Time only exists in the Third Dimension, all in the spirit realms are immortal and time does not dictate their lives. It is possible for a transcended spirit to spend hundreds of millenniums or more of Earth time on each dimension, until they have accumulated the knowledge and wisdom and compassion to ascend to another level. Souls have reincarnated thousands of life times to mature enough to ascend to the higher dimensions, where they become great spirits, who guide and design and set the course for all creation based upon the direction of the Creator. These Spirits are so close to the Creator that they speak for him and all of creation by administering the wishes of the Creator.
The Fourth Dimension can be understood if the traveler understands his polarized existence, that he has both light and dark within him, and his greatest attraction to one side or the other will dictate his
course in life, and his course in afterlife. "As a man thinks so is he." In a free will universe we can choose our own life course. If we live and thrive in a negative polarity and despise and trivialize the positive side of ourselves, then we will be compelled to create those same intentions in the Fourth Dimension as we had in the Third and create a mirrored reality. Whatever we desire we immediately manifest in the Fourth Dimension, if our lives are lust driven, or gluttonous, or deviant then all that we are addicted to physically we will also desire spiritually and seek the lowest levels of the Fourth Dimension to dwell in, or reincarnate to the physical plain to indulge again in physical pleasures and addictions, repeating our same lives and creating greater negative Karma. However our Creator has given us free will in this Universe, and does not judge anyone for their choices, he allows them to exist on the dimensional levels they are most attracted to, with the understanding that the Creator created light and darkness existed before light. Each side of the polarized Universe receives cosmic justice by operating under the Law of Karma. By establishing justice upon Humanity with free will, human creation judges itself and condemns or exults itself by its own actions, socially, governmental and in its relationship with Nature. This law explains all the justice and injustice the human soul endures,and each individual has the power to correct and change his or her Karma and ultimate life during and after physical death, by directing his focus on reunification with The Creator.
The Forth Dimension is highly populated with trillions of spirits and is unpredictable, it is a shadowy dimension because of its highly polarized energies, far stronger than they are on in the Third Dimension, because they are willfully generated by spirits who know what they are doing, and yet willingly stay as they are and not ascend to higher dimensions of light. The Fourth Dimension is a place of pleasure and suffering of spirits, depending on the degree of enlightenment they have achieved. All who seek reunion with their Creator, will seek and find their way to the Fifth Dimension and learn and further their journey to the higher dimensions, until their final reunification with the Creator. Remember as we enter the Fourth Dimension to disregard and eliminate all concept of Time. Time is only relevant to mortals and rules the Third Dimension and mortality is never a consideration in the spirit world, where all spiritual life exists forever. Understanding that Time is an illusion, allows us to safely enter the Fourth Dimension and pass through it knowing there is no urgency, and we are learning and maturing and enlightening our spirit or not.
My description of the Fourth Dimension may differ from the near death experiences most noted in the Third Dimension, however the near death are not death, but only sudden and uncertain visions by those
who have clinically died, and came back to physical life, and experienced an astral voyage while still linked to their physical bodies. Their desires and fears of living and dying created the greatest desire to reclaim their physical bodies and continue to endure their physical lives. Death is a gateway to the Fourth Dimension, where the spirit arrives at its intended destiny, then acclimates itself to the new environment, until it identifies and creates it own reality within the new dimension. Many Fourth Dimensional spirits love and guide their loved ones on the Third Dimension, they cannot or will not ascend to the next levels until those they love have crossed over into the 4th Dimension also to join them. Every spirit in ascension has its own story, its own evolution and its own reality. This is the marvel of creation. Every creature great or small in creation exists within its own reality. Its enemies are in its own mind and imagination. The reality is we create our enemies as well as we create our friends. We are free beings to live and choose as we like, eat what we want, drink what we want, say what we want, live the way we want to, regardless of our impediments to others. Tolerance and compassion are the greatest virtues acquired on the physical plain. Elitism of spirit without compassion and tolerance is hollow and death to any individual, who possesses this dark burden. Humility is the virtue to be acquired on the physical plain. Humility, compassion , wisdom and love, these are the four pillars of human physical existence. They are also the keys to the Fifth Dimension, where all who dwell there reject anything less. Each level beyond the Fourth Dimension is governed by all who dwell there, and designed for spirits to dwell there in joy and bliss and perfect community or to advance their spirit to the 6th Dimension where the spirits of the greatest masters live and then may advance to the highest level of spiritual hierarchy on the 7th Dimension.
The Fifth Dimension is where the spirits of Humanity dwell in perfect communion with each other, and with the one ambition to achieve perfection of spirit, and ascend to the highest levels of creation to reunify with The Creator. This is the highest goal for advanced spirits to work for. Yes, work is a real necessity not just for the Third Dimension but also for every spirit on every dimension. Working toward their own perfection of spirit. This is the ascension process. This is what must be understood on the physical plain, where all who suffer and endure must know and fully understand, that they chose their life,to purge their spirit and accept death as an end to their suffering, or accept life as a transcendent illusion, that can change with a simple thought. A poor person can become rich over night simply by believing he can. This is the illusion that has imprisoned and enslaved the spirits of humanity. Humanity is the crown achievement of The Creator, and fought over by the Jinn or dark forces and defended by forces of light for millions of years, because of Humanity's free will. Though created by Light Darkness is part of their existence and all that is of the Dark can attract the Human Spirit and compel the spirit to the Dark. Humanity in its constant ascendance to enlightenment is more brilliant, more remarkable and more resilient to suffering than any other race in creation. Our understanding and striving towards excellence of spirit, and our commitment to The Creator causes our transcendence and enlightenment of spirit, and insures our successful journey with ever-growing faith in our immortality.
This Trans-dimensional Journey will be continued.