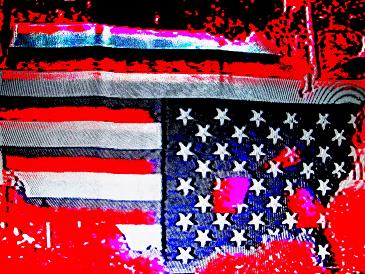 6/7/13
Amazing grace how sweet the sound of a private phone call listened to by the NSA. My privacy was once protected by The Bill of Rights, now it's lost and will never be found.
That was my short parody of a famous hymn. I feel violated today since I realized yesterday, that every conversation I've had on the phone or internet and everything I've read or searched for on the internet has been recorded and listened to by my government, since the passing of the Patriot Act and the establishing of the surveilance program PRISM in 2007.
I have always tried to limit my phone activity, I do not own a cell phone, and I am careful what websites I read and what information I search for and where. If I can find what I want through conventional means, like books, magazines, and newspapers or mailed subscriptions of news letters, I much prefer to use them.
There are great advantages of cell and wireless technology and electronic banking and all of the modern conveniences, but the down side of our technological revolution is the menacing access it provides for ruthless governments to spy on their citizens, and parasitic corporations to spy on their customers, or potential customers by invading their private phone calls and emails and internet search activities. As of 6/1/13 Yahoo has given their email users 30 days to accept their new privacy rules, that give Yahoo complete access to review all private email for government and commercial purposes. See my 6/1/13 article "Internet Alert…"
Many people will say, they don't have anything to hide. But they are the most confused, niave and idiotic, abused people in the world and they don't even know it. They say;"I must be really important if the NSA wants to listen to my phone calls." These poor deluded fools don't have a clue who is listening to them, or how that information will be used against them, either by a parasitic corporation who wants to sell them a caffeine loaded softdrink, or a ruthless genocidal goverment or military and intelligence agency, that needs to reduce the growing radicalized U.S population, and eliminate the most useless,harmful, or costly people in the country. They can know all of this simply by accessing their phone and internet history, to make their case against the "Home Grown Terrorists" or the "Useless Eaters".
I am a public figure. I have been for many years. My articles are read by hundreds of thousands of people and my name and website and radio show are prominently and deliberately promoted on the internet. It is my business. But I know I am being read and listened to because I do everything in my power to do so. But my public life is not my personal life, even though most of what I say on my website and radio show is archived and proof, that my ideas and philosophy are radical. They are anti religion, anti government, anti Israel, anti genocide, anti GMO, anti Monsanto, anti Obama, anti Congress and the Supreme Court, anti mainstream media. My right to Free Speech is still protected, but my right to free assembly and access to the mainstream media and major publishers has been severely challenged and my writing and radio shows have been censored. I edit my own work, and take responsiblity for any statements I make or spelling errors I make. Just as I take personal responsiblity for keeping a clear and focused view of all that threatens my life, my freedoms, my country, world justice and the world environment.
If believing in truth, justice, freedom and the destruction of all tyrannical governments and greed driven CEOs, whose entire business plans are designed to most efficiently rape and pillage the natural environment and murder and disable billions of people around the world by wars , pollution, political bribery and financial enslavement; then I am guilty, because I answer to a higher moral authority. The Obama Administration is in my estimation the most tyrannical in U.S history. Other presidents who overstepped constitutional boundaries were G.W. Bush who has been indicted by world courts as a war criminal for his criminal actions against Iraq and Afghanistan soldiers and civilians. President Lincoln, when this country was undergoing Civil War. President Franklin Roosevelt was accused of dictatorship when the U.S was in financial ruin, and we survived without an NSA or Dept.of Homeland Security. Andrew Jackson rid the U.S of enslavement by eliminating a central banking system like the Federal Reserve, but designed and ruthlessly implemented the state sponsored genocide of the American Indians.
Obama has done nothing of value for the U.S during his two terms. Instead he has deliberately furthered the erosion of Americans' liberties and has allowed the destruction of our middle class and the theft of the American Treasury by his criminal bankster cronies, who financed his election for his betrayal of this country. Times have changed but people haven't. The enslavement of the world population to a criminal elite has never been so real. The economic devastation caused by the last two Presidents and the hundred year enslavement of the U.S by the Federal Reserve allowed by every president and congress since 1913, has destroyed the U.S.
Every freedom an individual or nation is willing to give up for expedience, ignorance or false security is one step closer to their unlawful imprisonment and enslavement. There are still billions of people around the world, who do not care about these violations of their privacy by the NSA, or their own tyrannical governments, and millions of Americans are too foolish and apathetic, to take notice of the violations of their right to privacy all around them,and will remain ignorant, until all their rights are stolen. Real patriots as concerned Americans must take back their freedom and government by demanding Congress repeal the Patriot Act, and every other unconstitutional act,including the Federal Reserve Act, that are designed to enslave us.
L.A. Steel