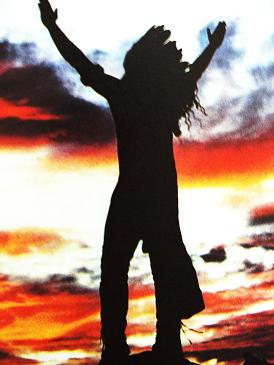 My Great Great Grandmother
5/17/12
A few years ago I had a psychic reading done by a Medicine Man and seer. He could read and communcate with the spirits around me. His gift and his curse was that he could see and communicate with the spirits, that surrounded each individual.
My reading was unsolicited. I had heard of his amazing gift by other people and he was a Seer for Charge. He told me as we smoked our cigarettes outside the storefront of the Metaphysical Center in Connecticut, that I had a spirit standing next to me. I laughed nervously and asked him who it was. He told me that it was a short, old North American Indian woman in a blue callico dress. Her hair was long and grey, parted in the middle and braided into one long braid. She was smiling at him and at me and holding my hand. He said that she was my Great,Great, Grandmother.
He could never have known that my Great Great Grandmother was rumored to be a full blooded Mic Mac. Record of her was untold by the family. My Great Great Grandfather was a Frenchman who came to Canada from France as a fur trapper and lumberman. He married (we are unsure) my Great Great Grand Mother and had several children. The oldest of her children was my Great Grandfather and my Grandfather was the oldest of his family of 14 children. My father was the oldest of 3 children. I am the oldest son of three boys, and I have an older sister.
My Great Grandfather passed away at 99 years old. He had a full head of white hair, and when he sat in his rocking chair near the window with the sun shining on him , he looked exactly like a sculptored block of marble sculpted in the image of a great Indian Chief. His indian lineage was the dominant trait in his features. My father's mother's parents were also half blooded Indian. The dominant physical characteristic in her family and my father's dominated in my father's features , I received a close resemblence to my father,except I have my mother's very French nose and some say her eyes.
The Seer told me that my Great Great Grandmother was always with me. One day I would know who she was and that she has been guiding me all of my life. I was very surprized to hear this; because all of my life I have known of some presence that existed near me. I could never identify it. It never spoke to me, neither had it ever appeared to me. It always remained silent, but forever smiling at me as a soft white cloud that shown brilliantly in the sunlight behind a mist of billowing white and grey.
For the first time in my life I was able to understand her presence. She was Love. She remained in spirit near the earth,to witness my birth. Upon that moment she became my guardian. I am embarrassed that no one remaining in her lineage,including myself know her name. Her name was never mention in our family gatherings. Even my grand father never spoke of her. My Great Grand father never spoke of her either. Why? I asked so many times . No one would tell me or they didn't know. It was a well kept secret not spoken of. Silence was all they replied.
Today I celebrate my Great, Great, Grandmother's life. I did not know her during her life, but I feel I have known her all of my life. I can see her now. I see her beautiful smile. I see her braided silver hair. I see her standing proudly at my side in a red and yellow calico dress. She is a short woman of about 5 ft tall. She is laughing at me with her arms stretched outwards towards me, she is laughing at how tall I am. She is wonderful. She is dancing in a circle singing a prayer softly. The sun is directly over her head. The loving daughter of her Medicine Man father. His eyes are hers, his soul reborn,his lineage through her is continued and reborn. I am he. I am his great,great,great, grandson. My Grandfather was her grandson, my Father was her Great grandson, I am my Father's and Mother's son, and appreciative of all who came before me.
L.A. STEEL