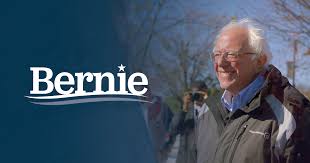 I am greatly disappointed in the Left-Leaning Internet News and Opinion Media for giving Bernie Sanders' eulogy after his Super Tuesday's defeat in Michigan. I hoped that Michigan would vote for Sanders' but it appears they voted in droves for Biden. AOC declared the DNC rigged the primary through voter suppression as they did in all the Southern states by removing hundreds of voting places without warning and not providing adequate numbers of voting machines in the polling places, also 5 candidates dropped out and endorsed Biden immediately prior to the primaries so their names were not removed from the ballots. All who voted for them in absentee ballots or early voting lost their votes and the DNC rigged voting machines against Bernie Sanders, with no paper ballots to verify the votes.
I believe AOC and others who understand what happened and are speaking out about it before the DNC crowns Joe Biden with their stolen crown. Biden and Perez will destroy what little remains of the Democrat Party. We can now see clearly who truly rules the Democrats and it isn't party loyalists who vote for politicians, it is the corporate and racist extremists governed by Billionaire Super Fund Managers, Bankers and Mob Bosses aligned with and funding Biden and Trump campaigns and buying off the Congress, Senate, and Supreme Court replacing politicians with automatons programmed to create all legislation to favor the wealthiest 1% of the United States.
Every "Progressive Presidential Candidate' except Elizabeth Warren has endorsed Biden and dropped out of the race, Warren has not endorsed anyone yet but she has lost all "Progressive" credentials with her insult to Bernie and her slander against the "Bernie Bros and Sisters" who supposedly insulted her on Twitter or and in emails. She has blown herself up and no one cares anymore who she is or what she ever stood for. Tulsi Gabbard just dropped out of the race yesterday and endorsed Biden. That was the last snub of Bernie Sanders. Why Tulsi endorsed Biden is another example of her strange devotion to the Democrat Party or whatever she's devoted to. After she voted no vote on Trump's Impeachment, and has virtually become a Fox News Contributor and regular guest no one takes her seriously anymore.
Progressive Young People must never give up their dreams of Honest Government, True Justice, Racial Equality, Financial Security, Healthcare For All, Good Public PreK-12 Education and Free Tuition Universities, Climate Change Solutions, to stop the needless wars and destruction of our planet with fossil fuels and create lasting infrastructure in all our public highways and utilities, and to transform the entire planet and humanity into a world of health, peace, harmony, happiness, prosperity and well being for all.
L.A.Steel
KEEP YOUR DREAMS ALIVE VOTE FOR BERNIE SANDERS IN ALL UPCOMING PRIMARIES AGAINST JOE BIDEN, AND IN THE GENERAL ELECTION AGAINST DONALD TRUMP.!