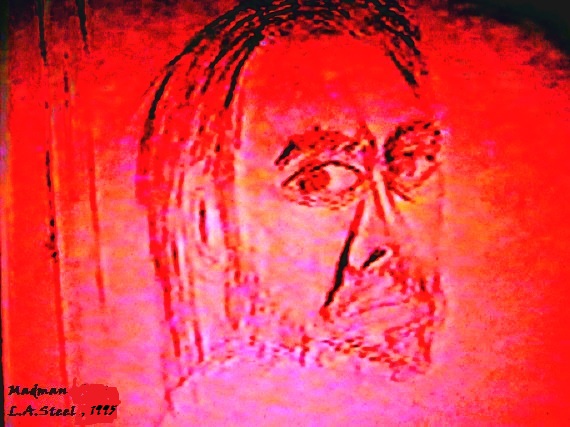 The holographic effect of words rhyming with visions seems to throw a shadow over the concept of clear precise meaning. Imagine a deep dark cavern of stalactites and bats clinging to the ceiling, then imagine the lost voyager that last came through the cave and what happened to him. I was he and now found my way into today, where the strange light of day shining through the entryway glazes over my eyes to create the soft,glowing, glistening, gossamer of true vision. Here in the archives of hidden meanings grow the secret stems of hallucinations and the undergrowth of civilizations.
Banquet halls of kings and paupers sitting together in Shakespearean plays, lost actions of knightly heroes lost in biblical swamps of tears. Hell bent on genocide of Indians and anyone else who multiply faster than white men. Hey, but I'm white and I don't kill Indians. What am I in your vision? One of the good guys, like The Lone Ranger or Rin Tin Tin. Here it comes again, imagine like John Lennon what could be and could have been. But he was killed at 40. I wonder if he saw it coming.
Let's dance to the chromosomal syncopation of the rhythmic chant with blistered feet walking over hot coals, listening to the spirits of possessed sham men running through the forest crying the names of the dead who summons them. "Where have you gone Joe DiMaggio heaven holds a place for those who pray,hey,hey,hey." They throw their heads back and forth into a frenzy of elation and inspired, smoke filled ecstasy. "Hey,Hey,My,My, Rock and Roll will never die. It's
better to burnout than fade away, My My Hey Hey."
Words were never said better than those, but in the mountains of acid rock and sonic chemtrail skies, only the sounds of flatulence survives. There the honest,clean and organically grown die. "In the midnight hour we all cry,cry,cry" Hey listen to him as he's running ragged through the field of burning sage, cleansing his soul in a fit of rage. Here in the humble room of cluttered dreams and clear vision are the wasted words of wanton desire captured in sentences.
Oh, ancient pipe of vision quests reject the spirit guides of
homicide and patricide and matricide and fratricide, left swimming in the memories of hate and pain and anguish, as love died years ago and the mad man remained. I welcome my dead friends to speak to again in the matrix of mind bending hallucinations and patterns on the walls of a room, filled with mementos and memories and books and papers and pictures and letters and phones and file cabinets full of things to keep and forget.
Off with the opening minds and dilapidated thoughts swept away by time. Good bye long dead, who redeemed his soul in increments of love,pain and sorrow and now lives as an artist and poet in a vision of happiness and fulfillment.
L.A.Steel