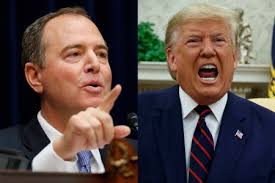 All praise goes to Adam Schiff Chairman of the House Intelligence Committee. His command of Wednesday's Impeachment Hearing was masterful. He understood the high stakes he was playing for and knew how to handle all in the room. His stark intelligence created the respect of all in attendance at the hearing. He understood the complexities of his production and directed the stage.
Famous Law Professor Lawernce Tribe stated in an interview recently that Adam Schiff was a " brilliant student".and had nothing but confidence and praise for his career and his work as Chairman of the House Intelligence Committee. That is high praise from one of the most prominent law professors in the United States.
Tomorrow's testimony by Maria Yovanovitch will be the testimony of a remarkable woman standing up against her fear of Donald Trump and the reasons for Trump's dismissal of her as Ambassador to Ukraine in May of 2019. Witnesses Taylor and Kent brought truth and integrity to their statements, so will Maria Yovanovitch to her statements proving to the world how ignorant, hateful and harmful Donald Trump really is.
L.A.Steel