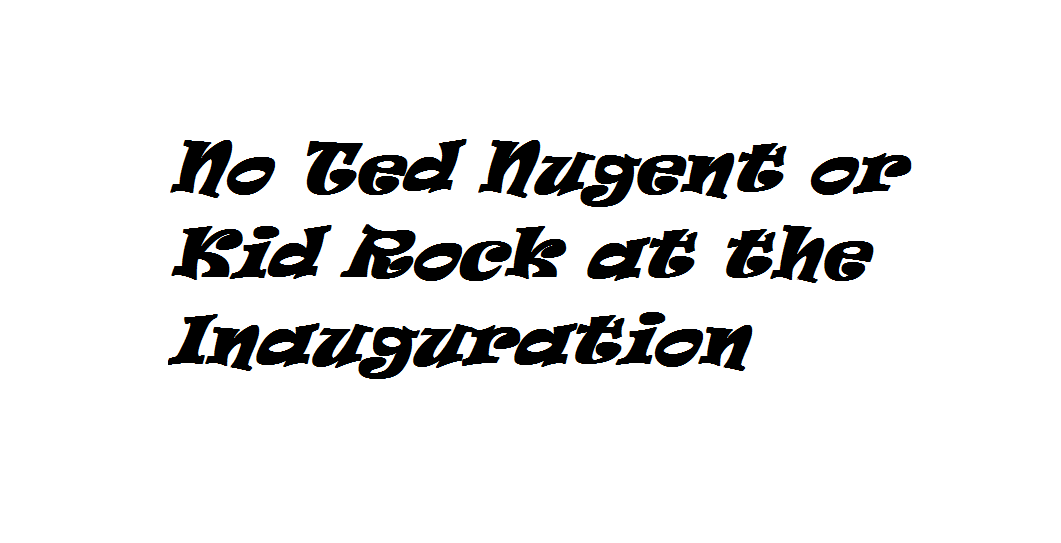 There is something very wrong with Ted Nugent not  playing at the Trump Inauguration. Maybe he offends too many people. Nugent can be an offensive guy, and not a unifier,  Kid Rock was never invited. This is not the way to treat one of Trump's first  major celebrity supporters.  Nugent says he had hunting plans for this week. Sounds like he was either insulted and uninvited or he insulted Trump or his team.
Sounds to me like Ted Nugent may have been advised by the Trump people and anti Trump people there would be more protests if he played. Ted Nugent is famous for his explicit lyrics in his major hits like "Wang Dang Sweet Poontang"  It appears political correctness may be at play here. Too bad, I was hoping to see " The Nuge"  play. He's probably better off hunting. 200,000 women marching against Trump today and tomorrow in D.C protesting Trump's treatment of women would be too much of a distraction and security risk if Ted Nugent blasted off a few Politically Incorrect songs.  Kid Rock is known for tough lyrics like  "Balls in the Face" and his notoriously pornographic publicized relationship with Playmate and actress Pam Anderson that got them thrown off FACEBOOK. Ted and the Kid were too politically incorrect to play at the inauguration.  Blatant symbols of misogyny by these celebrity singers and songwriters, wouldn't go off too well in D.C today, regardless if the performers were black or white. Here is one of Ted Nugent's most infamous songs. It came out in the 80's as one of his biggest hits and is remembered my millions today.  Also I presented a performance by Kid Rock. so my readers can see some of what they missed.
Happy Inauguration Day America !!!!!!
L.A. Steel