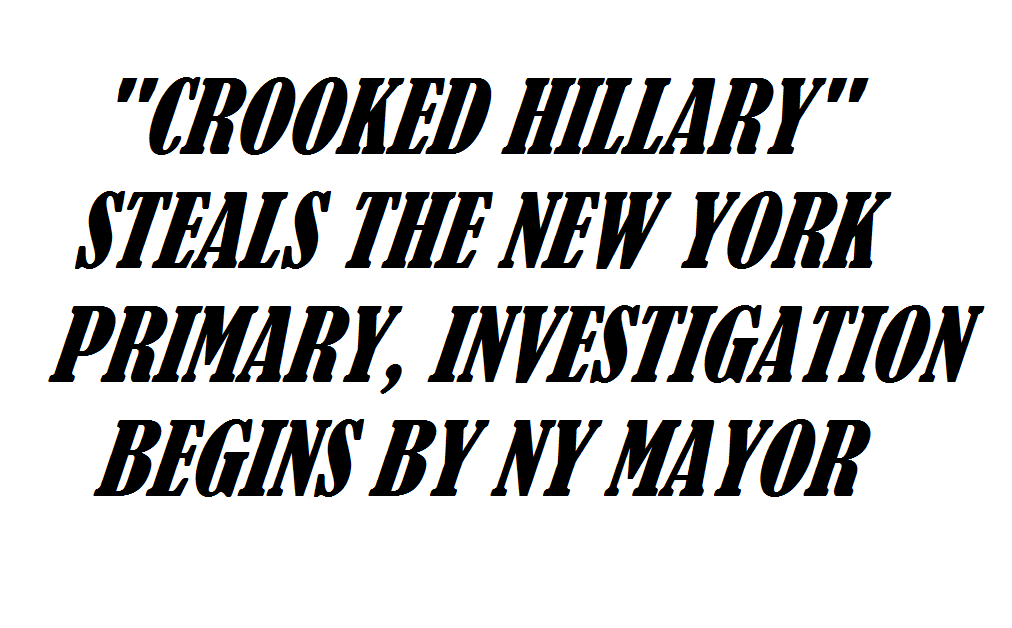 USUNCUT.COM states"
New York's Mayor Responds as Brooklyn Voter Purge Doubles to 126,000
 ———————————————————————————————————————————-
Bernie Sanders really won the New York primary. It was reported that over 100,000 registered Democratic voters were purged from the Brooklyn registry,and thousands from seven other boroughs. That is exactly like what happened to Democrat Voters in Florida in 2000 and 2004, and rigged voting machines in high Democratic states, only then the Republicans fixed the general election. I feel sorry for Bernie Sanders and his millions of young supporters, who have seen the worst of the U.S election process in action.  Not all New York voters have "New York values"  It appears by the primary results that many of them are throw backs to Tammany Hall when everything and everyone in New York was controlled by crooked politicians and mobsters. I laughed at the Hillary Sell Outs , like Charlie Rangel, and few other famous New York  Hillary Loving Criminals hailing her victory last night, where it looked liked only a hundred or so people showed up to cheer her on, which included the Governor and Mayor of NYC.  I'm surprised the mayor is calling for an investigation into election fraud in New York City, it is hard to believe he didn't condone it , before it became public.
This fraudulent Democratic Primary must ignite the Bernie Sanders supporters to march on the Mayor's office and the Secretary of State's office and demand an investigation into the election fraud displayed throughout the state of  New York, the same way Hillary's election fraud was proven in Nevada and Arizona and are now being contested in courts.  Bernie Sanders supporters must commit to support Bernie straight to the convention, and vow never to allow Hillary Clinton to receive the nomination. If they do this Hillary will lose and eventually be indicted by the FBI, and watch her entire career flushed down her Chapaqua, New York toilet.
Bernie must win all the other state primaries. Hillary had to illegally win New York or her campaign would be dead in the water.  Most New York Hillary voters seem completely deaf, dumb, and  blind, bought off, or completely stupid for supporting Hillary. Either they can't see her corruption or refuse to see it, even with it scrawled on every building and wall in New York and Washington D.C. I must ask why so many people are blind or willfully ignorant of all of Hillary and Bill's crimes? Having a heart for Hillary is the same as loving all Wall Street brokers and bankers, weapons dealers and brutal dictators. Hillary and her ilk are so ingrained with greed it must be within their DNA, and is a genetic defect, that allows all afflicted with the disease to develop sociopathic personalities, and a disassociation with their higher natures of compassion, integrity and concern for anyone else but themselves.  Hillary and Bill Clinton exemplify the worst of sociopathic characteristics, and because they can lie , cheat and steal so easily they have bribed and corrupted most of Congress and the Obama Administration. The apparent lies, and crooked deals made under Hillary's term as Secretary of State has caused the continued chaos in the Middle East and the newest wave of Terrorism through out the world. Everyone in the nation and globally are expecting the FBI to issue a warrant for her and her husband Bill's arrest for treason and corruption. I only hope they do it before she gets any closer to stealing the entire election process.
THE NEW MANDATE FOR ALL DEMOCRATS, INDEPENDENTS AND REPUBLICANS, AND EVERY LAW ENFORCEMENT AGENCY IN THE U.S,  IS TO RID THE U.S AND WORLD OF  HILLARY AND BILL CLINTON !!!!!!!!!!!!!!!!!
L.A. Steel,
Independent Write In Presidential Candidate 2016