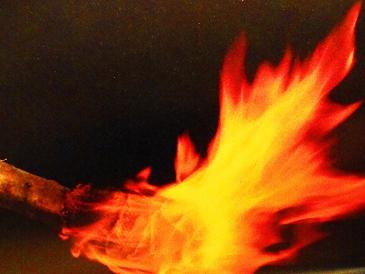 THE AUTHENTIC L.A. STEEL CHILI MAXIMA RECIPE
7/25/07
I have enjoyed and improved on this recipe for many years and I've found this particular recipe to be my favorite. Yes I made it. Thought it up myself one hungry night after work a number of years ago. I was expecting a date for dinner and needed to make something quick. It impressed her enough, that I've been cooking for her ever since.
Before I give out my Authentic L.A. Steel Chili Maxima Recipe to the world I must first say that I was once a Chili Contest Judge. A friend of mine owned a restaurant, and started up an annual Chili Contest. He considered me a local celebrity, and asked me if I would be one of the judges for his contest. I agreed to do it and gave the contest a plug on my television show.
Chili judging isn't as easy as one might think. There were twenty five entries in the contest. Every kind of Chili known and unknown to mankind. There was vegetarian chili, chicken chili, bean chili,no bean chili, green chili, hot chili, cold chili, white bean chili, black bean chili, bad chili, fair chili, and one or two traditional types of chili. The keys to judging a chili contest without getting sick are to make sure you don't swallow anything, second is to carry a bottle of cold water while your judging, and third make certain you have a roll of antacids in your pocket for after the judging. I found TUMS to be the most effective, but Rolaids will save your life as well.
In my opinion chili should be spicy, actually I like it medium hot. Enough to burn the tongue and lips a little, but not burn off a layer of skin. Secondly, I think a good chili must have substance. BEEF NOT CHICKEN. The third essential ingredient of a good chili is the beans. Good solid red kidney beans are best(canned beans are fine). The next thing I consider in a good Chili is it's texture. I hate runny chili. A good chili must be thick enough for a spoon or fork to stand straight up in it. There must be a perfect balance between the beef and beans. Too many beans will kill the chili, too much meat will kill the chili, too many onions, or peppers, or jalapenos, or whatever else is thrown in the chili will ruin the chili. Balance is what is demanded in a good chili. Fresh ingredients are important, but not always essential. Many canned beans, canned tomatos, and bottled hot sauces, are good substitutes for some fresh ingredients. Make sure onions or peppers are fresh and hamburger is fresh. (Cook hamburger separately and drain all fat. Do not burn it. Nothing is nastier than chili with a layer of grease on it and bits of burned hamburger.) The last important ingredient of a good chili is it's secret ingredients. This is what distinguishes genius from everyone else.
Now that I have instructed my readers with the essentials of a good chili I will reveal the AUTHENTIC L.A. STEEL CHILI MAXIMA RECIPE. This recipe is guaranteed to impress your date, perk up a poker party, make "Dad's Chili Night" a special family event, or just enjoy a night of fine dining.
The following is the OFFICIAL L.A. STEEL CHILI MAXIMA, Preparation, Cooking, and Serving instructions.
AUTHENTIC L.A STEEL CHILI MAXIMA: Base Preparation
Ingredients needed: 4,15 oz. cans of halved, stewed tomatoes , preferably with bits of peppers and onions. 3, 15 oz. cans of red kidney beans. 2, whole medium or large onions. 1, pound of fresh hamburger, lean or 3/4 lean. 1, 15 oz. can of seasoned collard greens. 1, regular size bottle of Original Louisana Hot Sauce. (You will not use the entire bottle) 1, 15 oz. can of brand name Sloppy Joe Mix. Without meat in it. (Do not use any dry mixes with this recipe)
AUTHENTIC L.A. STEEL MAXIMA: COOKING INSTRUCTIONS:
1. Thaw or heat up 1 pound of hamburger for 4 minutes in microwave. This will render out much of the fat or thaw out the meat and render the fat at the same time.
2. Pour two or three tablespoons of olive oil into a frying pan. Heat frying pan at medium high heat; wait until the oil is hot. Do not over heat, do not be afraid to add one or two more tablespoons of oil . I prefer olive oil to vegetable oil, it has a better taste and better smell.
3. Chop or slice onions (I prefer sliced) and place them in the hot oil, let them saute for 5 minutes, or until slightly browned and tender. Drain microwaved hamburger into sink with colander or pan cover and place the drained hamburger in the pan with the sauted onions. Break up the hamburger into small pieces in the pan, do not crumble the meat too small. Cook until slightly brown, do not over cook the hamburger.
4. Blend the sauted onions in with the hamburger while hamburger is cooking. This gives the meat more flavor . If the pan sticks add more olive oil, it will only enhance the flavor of the meat and onions and prevent all from drying out or over cooking, and quicken browning.
5. Drain all excess fat or oil from the pan once the hamburger is cooked. When the meat and onions are cooked stir in 4 cans of halved stewed tomatos, do not drain the tomatos. Mix the onions, hamburger and stewed tomatos together; then let simmer for 15 to 20 minutes at medium high heat.
6. While the onions, hamburger and tomatos are simmering add 1 teaspoon of salt and 3 tablespoons of Louisana Hot Sauce to the mix and stir in . This adds heat and flavor while the base is simmering. Add more or less for taste. Be careful here, Hot sauce can be deceiving, it can creep up on you . 3 tablespoons is medium mild, but taste the mix after stirring in two tablespoons and add more if needed. (People under 16 years old and over 70 , often like mild chili.) I am liberal when it comes to adding hot sauce. What is medium hot to me may be HOT to someone else. Also do not add too much salt , if using canned tomatos and beans.
7. Once the mixture is thickened then add in the 3 cans of red kidney beans. Drain out half of the liquid from the canned beans and used the rest with the beans in the mixture. Stir up the mixture and beans thoroughly and let simmer at medium heat for another 5 minutes.
8. Stir in the one can of Sloppy Joe mix and stir into the mixture completely, let the entire mixture simmer for another 5 minutes. Chili should now be thick and properly seasoned. Taste test for balance and heat. If the chili is too HOT or too thick add a 1/4 or 1/2 cup of water; until you get the consistency you want, If not thick enough simmer longer at low heat until consistency is thicker.
9. Stir chili continually, this will keep it from burning and better blend the ingredients. Add a teaspoon of granulated sugar or a teaspoon of molasses if the base is too HOT; this will neutralize the acidity and some of the heat.
10. Finally, the secret ingredient of THE 'AUTHENTIC L.A. STEEL CHILI MAXIMA: Drain half of the liquid from the can of seasoned collard greens, leave some water in the can. Mix in the entire can of collard greens with the mixture thoroughly, and let all the ingredients simmer for another 5 to ten minutes on low heat.
11. Taste again for consistency and spiciness. Add another tablespoon of hot sauce if too mild, or add more water if too hot. Add salt and black or red pepper when serving . I prefer black pepper, the hot sauce adds enough heat to the chili. Black pepper and salt added at serving will add significant flavor.
AUTHENTIC L.A. STEEL CHILI MAXIMA SERVING INSTRUCTIONS:
1. Spoon out the chili into a bowl and top with grated cheddar cheese. Serve with a crusty French or Italian bread or bagette,or saltines, or your favorite crackers. Chili should be thick enough to serve with a fork, but some might prefer a spoon.
Serves 8.
2. I suggest serving cold beer,cold water or cold milk, instead of wine.
Optional suggestions:
A double shot of a good Tequila on the rocks.
ENJOY.
L.A. STEEL